| | | | |
| --- | --- | --- | --- |
| Gary +44 7801 930 411 | | | |
Its difficult to convey the impact of fulldome immersive video, as you are literally inside the footage, its above you and all around you, but when its done well, it is quite simply astonishing.
We are confidant that you can count on the fingers of one hand the number of people in the world who can direct, shoot and edit a fulldome movie and then go on to design the fulldome installation, set up the projectors, align the Planetarium Media Server and program the show, but it's all in a day's work for deepvisual.
above is a panoramic shot of a negative pressure geodesic 20m dome that was installed in Madrid in Dec 2012. deepvisual were asked to re-engineer the projection system after serious problems with an unsuitable media server supplied by another company. Needless to say, we had the whole thing sorted in a very short time and the clients were delighted.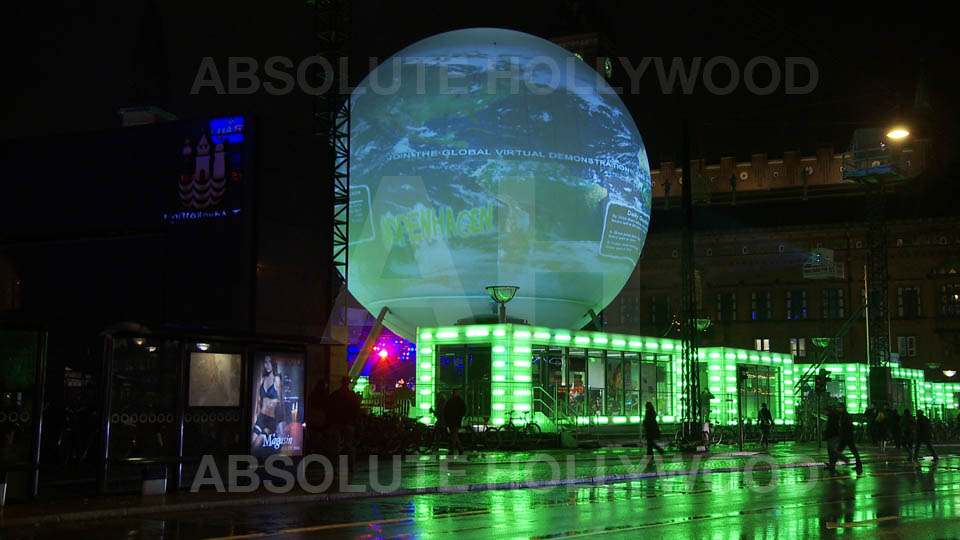 Copenhagen Climate Change Conference 2009
deepvisual have had a creative relationship with dome manufacturers Absolute Hollywood for over a decade, designing and implementing fulldome projection systems in their unique inflatable domes as well as being responsible for drafting and producing all fulldome content.
In our recent project at the Climate Change Conference in Copenhagen Dec 2009, we had the serious challenge of turning a planetarium inside out, in order to achieve our goal of projecting a giant image of Planet Earth with realtime interactive data streamed from the web, onto a custom designed free-standing 20m diameter inflatable sphere. The project took over six months from concept to completion and drew on a huge pool of talent, from fulldome compositors, planetarium system programmers, dome technology designers, structural engineers, projection specialists and realtime interactive programmers.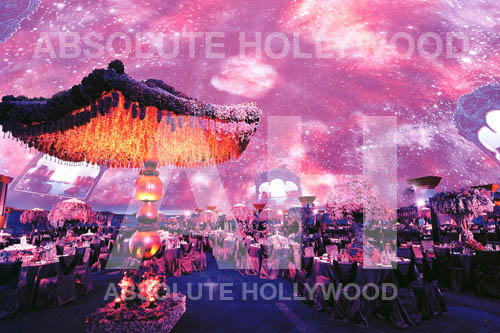 The Celestial Dome ~ 60m diameter with room for over 5000 people. A single immersive projection using 32 projectors

deepvisual's immersive longhouse ceremony - created by using over 100 layers of bespoke HD video
LONG HOUSE NIGHT
Another daunting technical challenge was our very succesfull fulldome installation at The Four Host First Nations Pavilion during the Vancouver Winter Olympics 2010. A 20m diameter Stratosphere was transformed into the centre of a traditional First Nations Longhouse, combining the ancient and the modern into a celebration of Aboriginal Canada. Pre Production progressed during the summer of 2009 resulting in a spectacular fulldome presentation of over 100 Aboriginal Canadian drummers celebrating Potlatch - A sensational showcase of the culture and history of the Four Host First Nations of Vancouver. The show utilised our bespoke Sirius projection system, creating an immersive fulldome video above and around the audience, based around the themes of 'Longhouse Night', ' The Flight of Transformation' and the traditional chanting of 'We Are Here'.
enquiries
info at deepvisual.com
contact Gary +44 7801 930 411
London SW3
United Kingdom